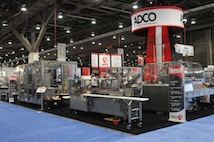 The latest in international packaging trends was on show at the Pack Expo event held in Las Vegas in September, and attended by Emrich's
Michael Richardson.
"It's a huge event and there were around 1,750 exhibitors from around the globe," said Michael. "It was a great opportunity for me to catch up with some our suppliers and to speak with them about packaging machinery innovations they have in the pipeline. Knowing what's on the horizon means we can guide and advise our clients throughout Australasia about the best packaging machinery options to match their requirements."
During the three-day event, Michael also had the opportunity to work on several of Emrich's supplier's stands including PFM from Italy and ADCO from the US.
"I found it very interesting to speak with their customers from the US, Europe and Africa about the scale of their operations," said Michael. "In Australia, our population is significantly smaller and so production runs reflect this. That's why it's critical that the packaging equipment we offer is flexible and can quickly adapt to relatively shorter production runs and different production lines."
Emrich's extensive product range includes the super flexible PFM Hurricane horizontal flowrap packaging machine and ADCO's 15DZ Hand Load Cartoner which can accommodate limited runs and has a fast changeover time.
Contact us to find out more about packaging machinery options that will help make your output more efficient and cost effective.