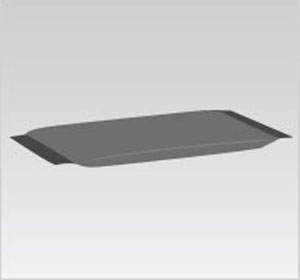 Flat Sachet Packaging Machine for Liquids, Condiments, Cosmetics and Food Products. Sachets are perfect for packaging small portions of liquids, gels, powders, etc. The Aranow FS range of sachet packaging machinery provides condiment, cosmetic, pharmaceutical and food product manufacturers with a reliable, cost effective way of producing three and four side seal sachets. Our intermittent motion, multi-lane sachet packing machines are all servo-driven. A maximum of 1050 sachets per minute is possible with the web width of up to 1000mm.
Multiple filling systems are available for liquids, gels and powders, including volumetric, servo auger and servo liquid doser options.
Review our range or contact us today to discover more about our complete range of quality flat sachet machines.
Highly-Efficient Flat Sachet Machine
Are you looking for a trusty flat sachet machine that efficiently takes care of small portioning?
At Emrich, our goal is to provide you with efficient and cost-effective portion packaging solutions with our sophisticated range of sachet packing machines. For more than three decades, we have been associated with well-known packaging equipment manufacturers from Europe and the US. With our special focus on research and innovation, we always strive to bring in specialized sachet machines to suit all kinds of applications in a wide number of industries.
With a team of well-trained and knowledgeable technicians, we make sure that our services are customized as per your requirements and budget. Our sachet machines are suitable for big and small-scale productions.
To know more about flat sachet packaging, call us at
Read More

High-performing Sachet Filling Machine

When it comes to small portioning of liquids, powders, granules, gels, etc., a sachet machine provides a precise packaging solution. A flat sachet machine is ideal for controlled packaging of food products, condiments, cosmetics, and pharmaceuticals.

At Emrich, we bring you a comprehensive range of single-dose sachet filling machines from Aranow. Whether you require a single pack, twin pack, or multi-pack sachets, we can provide you with your ideal sachet machine.

Special Features of Our Aranow FS Range of Flat Sachet Machine

High-speed and multifunctional.
Made with high-quality materials for durability.
Servo-driven, multi-lane flat sachet packaging for a high rate of production.
Compact and practical design to save space.
High-yield rate of up to 1050 sachets per minute.
Quick and easy format changes to reduce downtime.
Multiple filling systems for different types of products along with options for correct quantity dosing and labelling.
Effective sterilisation system to maintain hygiene and quality of packaged products.
Slimmer and easily openable packaging suitable for pharmaceutical and cosmetic products.
Great savings on energy and operational costs.
Tool-free access to main components for cleaning and maintenance.
Easily customisable options for a wide range of applications.

Where can sachet filling machines be used?

These machines can be used for packing food items like oil, spices, and condiments, pharmaceutical products like powder, granulated, or liquid medicines and cosmetic products like shampoos, wipes, lotions, creams, etc. Flat sachet single-dose packaging also works wonders for sampling during brand promotion and marketing.

Why employ Emrich?

At Emrich, we understand that the quality, look, and efficacy of packaging can have a huge impact on the success of your business. Therefore, we strive to make your experience a seamless one with our exemplary services:

Top-grade sachet packing machines with high functionality.
Professional commissioning and installation.
Expert product usage training.
12-months warranty on all sachet filling machines.
Ready stock of authentic spare and replacement parts.
On-site as well as remote maintenance and repair solutions
Customised services as per requirements.
Reasonable pricing for a stress-free experience.

To buy one of our flat sachet machines or to discuss your requirements with our experienced technicians, call us today at 1800801243.