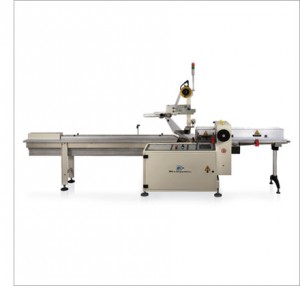 Fabricated, painted machine structure with 3-axis servo drive and colour touch screen. No product-no bag and misplaced product detectors.
Top feed wrapping material up to 700mm wide. Adjustable folding box to suit wide product range. Single rotary action end seal jaw 350mm wide with knife/anvil for pack separation.
4 individual heater controls. Operating speed up to 80 packs per minute or so. 1.5 metres of infeed conveyor for manual loading of product. All contact parts in stainless steel or food quality plastic.