The accelerating UK market for mini portions of block cheese, particularly in multipacks of different flavours, is emerging as one of the latest influences on current packaging machine selection within the dairy industry, according to PFM Packaging Machinery which, worldwide, now has over 3000 wrapping and bagging machines handling cheese.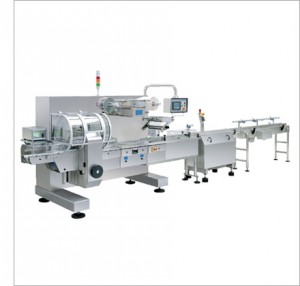 As a result, says PFM sales and operations director Chris Bolton, new machinery sales to the UK industry over the next two to three years are expected to show preference for particularly flexible flow-wrappers, quick to size change and capable of sustained high speed in the broad weight range of 20-25g up to 400g and even beyond.
Likewise, demand for bagging and weighing machine combinations will also, he reckons, reflect the need for higher levels of versatility to change quickly between a variety of multipack styles and reclosure systems.
"The bulk of block cheese production will of course continue to be handled by existing and proven high output equipment, as will grated cheese, with brands now almost entirely making use of some form of reclosure feature," he says.
"Zip style reclosure will dominate for some time, but current inquiries suggest that brand owners are looking at moving some products up to a slide-style zipper, to gain a new product plus, while others are considering greater use of packs reclosed with a pressure sensitive label or strip to reduce cost."
Anticipated demand for greater versatility in flow-wrapping equipment led PFM last summer to introduce a new high speed MAP machine able to produce both reclosable packs and standard pillow packs, particularly mini-portions.
Capable of speeds up to 100 a minute in reclosable, MAP mode, the new Scirocco-ZIP uses either zipper or mini hook-and-loop profile yet can be changed over to produce pillow packs at speeds up to 170 a minute in less than 20 minutes.
"The Scirocco-ZIP offers the speed to allow the dairy industry and particularly its contract packers to take advantage of growing markets in mini cheese portions yet maintain production of existing standard or reclosable packs," explains Chris Bolton.
In fact, the Scirocco-ZIP is one of a series of specialist machines based on the established PFM Scirocco machine and uses its patented design of rotary sealing jaw. This allows gas-tight hermetic seals to be achieved reliably at elevated speeds, using a gear-based cam system in place of the usual springs that hold the sealing bars against the film for the required period.
First Milk at Maelor employs a PFM Scirocco on mini portions of cheese and, according to engineering manager Neil Heslewood, is able to achieve high speeds, up to 170 mini-portions a minute, as a result of the sealing system. "Mini portions of 20-25 grams clearly need high production speed but seal quality is particularly important and with the Scirocco is something we can rely on," he says.
First Milk also employs a 14-head PFM mutihead weigher to count mini-portions by weight and deliver them for multipacking into a PFM Zenith bagging machine or a net bag maker also supplied by PFM.
For grated cheese and multipacks PFM has just announced its new multi-mode Vetta II bagging machine, able to meet marketing demands for pack versatility and variety by providing over 20 different bag styles from a single machine, in addition to traditional pillow packs.
These include block bottom stand-up pouches, PFM's Steelo four corner seal stand-up bags, Amcor's Flexcan pouch design and also reclosable bags, using adhesive, zipper profile or mini hook-and-loop profile. MAP facilities can also be fitted for extended shelf life.
To maintain versatility, the Vetta II has been specifically designed to allow easy changeover between bag styles.
"Many of the bag styles possible on the Vetta II involve a series of folds that make set up difficult on conventional machinery," explains Chris Bolton. "However, the way in which the Vetta II operates allows accurate changeover by the operator, rather than engineers, in less than 30 minutes."
Despite the introduction of more flexible wrapping and bagging equipment, able quickly to provide different pack formats, Chris Bolton expects the bulk of zipper-based reclosable packs for wedge and block cheese to remain with existing purpose-built machinery.
"With a mature market, the cost of production becomes particularly important and high output is a major factor in keeping unit cost down. Yet the heavier gauge laminates and zipper profiles need long dwell sealing for reliability."
It was to achieve long dwell sealing at high speed that PFM launched its BG4800-Zip machine. Instead of the traditional box or D-motion sealing jaws employed to give longer dwell times for hermetic sealing on high speed MAP equipment, this machine uses a series of jaws set around a cam wheel.
These give much higher dwell times, typically ten times greater allowing the zipper profile can be fed continuously, rather than be cut to length and placed between the cross seal positions. The result is higher speed, of around 150 packs a minute on typical 400g packs of block cheese.
First Milk was an early user of the BG 4800. "Improved quality was the main driving force," explains engineering manager Neil Heslewood. "The longer dwell time creates a reliable hermetic seal, so there are no leaks and pack integrity can be guaranteed more securely. At the same time production speed can be raised."
Further versions of the BG machine, principally the BG2800 Zip are employed by Dairy Crest on its Cathederal City brand.
However, though the zip currently reigns supreme there are signs that some brands may consider a move to less expensive reclosable packaging that employs a pressure sensitive label yet provides a significant product differentiation
"PFM already has a number of label-reclosure machines in the European cheese industry, including the UK, and current discussions with manufacturers suggest that this may grow, sometimes at the expense of traditional zipper bags," says Chris Bolton. "Wrapped cheese slices are also particularly suited to this style of packaging."
The Pocket Bag machine is another variant of PFM's established long-dwell seal Scirocco flow-wrapper, providing a reclosable wallet style bag at speeds up to 130 a minute.
The longitudinal seal is peelable and made at the base of the flap, which is then folded over and held in place by a pressure sensitive label. Once opened, consumers can reclose the bag with the label.
"Zipper closures seem set to continue dominating the market, although at the edges we do expect greater experimentation with different forms of reclosure," says Chris Bolton. "But whatever happens, it seems highly unlikely that brands will move back to conventional flow-wraps."
Source: PFM