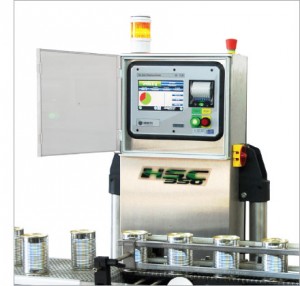 The HSC350 "R" series chain checkweigher combines unrivalled sturdiness, high precision and a design created for use in extreme industrial environments. Created for use with boxes, cans and bottles in dry or wet environments, the "R" series checkweigher is sturdily built and features a chain conveyor mechanism that achieves the required degree of accuracy at an optimum speed.
A smooth on & off transfer is provided by the side transfer options allowing a convenient integration of the checkweigher alongside existing production lines.
The open design and stainless steel construction facilitate the cleaning and washing procedures. The special high speed pusher ensure a delicate redirection without damaging the product, even if open or not sealed.

[salesforce form="1"]