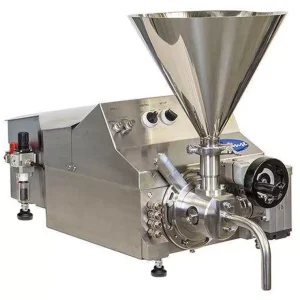 A semi-automatic pneumatically driven benchtop volumetric filling machine. Designed to meet pharmaceutical standards, the Response Benchtop Filler is versatile, hygienic and easy to use. The stylish exterior conceals a well-engineered and robust filling system.
Fast filling, up to 40 containers per minute, with exceptional accuracy of up to ±0.25% to reduce waste. Designed with 316L stainless steel / PTFE pharma and food quality compliant contact parts, to handle fill volumes from 3ml to 1L. This machine is able to be fully stripped for cleaning in as little as 3 minutes.
Choose from one or two filling heads, and use interchangeable nozzles for different products, including liquids, oils, gels, creams, pastes and thick products with particulates.
The Response Benchtop Filler can be configured for use in ATEX Zone 1 Category IIB 2G c T5 (100C).

[salesforce form="1"]