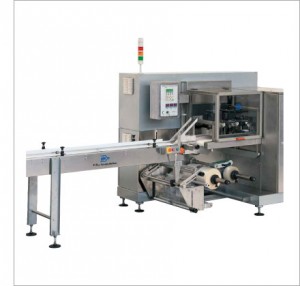 SHAMAL is a horizontal flow pack type packaging machine with electronic bottom reel that produces closed packs with three seals originating from a flat foil heat-sealing wrapping material reel. Shamal has also been designed for M.A.P. (Modified Atmosphere Packaging).
The main characteristics that make Shamal the focal point worldwide in the field of packaging, can be summed up in the following: air-tight sealing system, aesthetically pleasant packs, guaranteed hygiene, high flexibility and great productive capacity.
High flexibility: The SERVO version of the Shamal packaging machine, features the LVA option (automatic adjustment of packaging length according to product length) with fixed pitch and centred printing in case of products with constant length and film with centred print. Furthermore, Shamal makes it possible to package products with a height of up to 200 mm and width up to 360 mm thanks to the E.R.S. sealing system (patented by PFM).
Aesthetically perfect packs: thanks to the adjustable forming box and the longitudinal sealing system made up of 3 sets of inclinable wheels for adjusting the wrapping tension around the products and to the E.R.S. crosswise sealing system with parallel closing and separate motorisation, Shamal produces perfect wrinkle-free packs, which are properly tensioned and proportioned with respect to the product so as to originate parallel and tight seals.
Guaranteed Hygiene: a special frame made of AISI 304 stainless steel along with the "cantilevered" type construction concept where the mechanical and electrical components are housed at the rear of the machine in separate and protected areas, while the sealing units and conveyor surfaces are housed at the front with the quick-release belt, permit fast and easy cleaning of the machine.
High wrapping speed: up to 70 packs/min in full safety, air-tight seals, aesthetically perfect packs, optimised gas recycling inside the film tube (MAP optional).