The most advanced stick pack machine with liquid filler is designed for 3-shift running factories. It's able to fill low to high viscous liquids for instance, oil, ketchup stick pack, sauces, mayonnaise,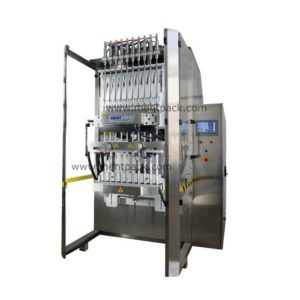 tomato paste, cream chocolate, cosmetic liquids, shampoo, CBD oil into stick packs up to 12 lines with minimum 17 mm width. It's the most advanced stick pack machine with liquid filler. Equipped with fully servo driven and supporting with a motion controlling technology and fully controllable HMI for minimum interruption and for high efficient productions.
We designed our stick pack liquid fillers for high speed and high accuracy filling without any drop or leaking problems. Servo driven piston pump with shut-off nozzles made with years of experience giving the best accuracy with zero-leaking. Because of long lasting custom made gasket set in the actuator lasts up to 30 days at 3 shift running. Easy gasket changes shorter the down time of maintenance and CIP-Ready or CIP Cleaning options creates the efficiency for faster cleaning the companies which do not have CIP rooms.
Above all, Mentpack always use the premium brands in components as standard on all machines. Just to make sure for our customers' need uninterrupted manufacturing so that we supply free of charge remote connection technical support. Our liquid stick pack machine has web width is 1200 mm max. and up to 70-80 cycles/minute speed.
[salesforce form="1"]