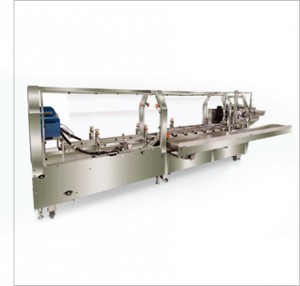 There is a reason the 15D105 is one of the most recognized cartoners among packagers. Capable of forming a wide range of carton sizes and styles at speeds up to 125 cartons per minute, the affordable 15D105 is ideal for the most demanding and cost conscious production environments.
The 15D105 features continuous motion design, delivering smooth, efficient and reliable operation all day, every day. Designed for easy conversion to a fully automatic barrel cam machine, you can rest assured that as your production needs change the 15D105 can change with you. Fast changeover, simple operation and excellent ergonomics, all hallmarks of the 15D105, make this machine an incredibly popular choice.
Like all ADCO machines, the 15D105 is constructed in stainless steel and is available in standard or washdown configurations.

[salesforce form="1"]