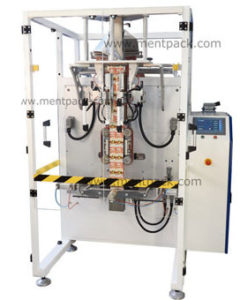 As quadro pack types becoming popular in food manufacturers industry, Mentpack packaging machines supplied so many quadro pack multihead weighers to food companies such as nuts manufacturers & suppliers, tea and coffee manufacturers & suppliers, etc. Quadro pack multihead weigher is a good choice to get quadro type bags and filled with granule products.
Multihead weighers are generally needed to weight and fill products that can be broken easily as well as products which are needed to count by weight.
Mentpack packaging machines introduced its quadro pack packaging machine models late 2000s. Since then, technological improvements in packaging machine industry, packaging machine manufacturers started manufacturing quadro pack as a standard model instead of a tailor-made packaging machine. Mentpack packaging machines catch this market trend very early so that its quadro pack machines become so popular in the market. Especially in coffee manufacturers and food supplement industry request our quadro pack multihead weigher packaging machine.
[salesforce form="1"]