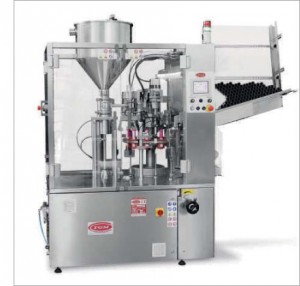 Output up to 2,800 tubes per hour, suitable for tube diameters from 10-42 mm and lengths 50-235 mm (approx. 2-300 ml).
Automatic tube loading from hand fed chute, fitted with tube print orientation, sensor to detect the tube is the correct way up, automatic filling (with pneumatic shut off), closing and ejection. 4 sets of jaws for closing metal with an additional set for saddlefold. 50 ltr capacity stainless steel hopper with lid.
Fitted with safety interlocked guarding. Services: electrical 415V/3ph/50Hz, 1.5 kW; compressed air 150 ltr/min. @ 6-8 bar.