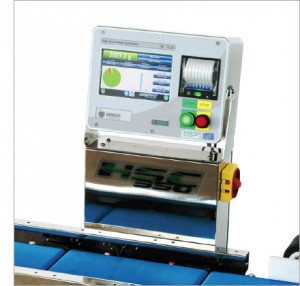 The HSC350 "C" series checkweigher is the compact, modular, cost-effective solution that integrates the quality control line when space is at a premium. Sturdy and flexible, it can be easily fitted with a Metal detector plus display and labelling systems. The system can be easily sanitized and hygienized thanks to its special shape, featuring flat, easily accessed surfaces.
Thanks to the innovative "Real Weight" dynamic measuring system, HSC350 can be used without the need for the calibration or product learning procedures required by the majority of the "peak weight" weighing machines available on the market.
Easy-to-use and intuitive software interface allows quick change of data and secure operations protected by password: up to 100 programs are saved in checkweigher's memory.