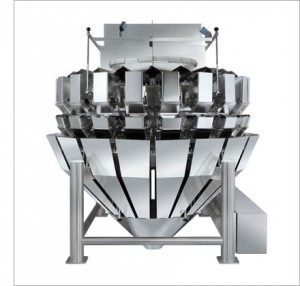 From 8 to 24 heads with memory buckets. High-speed, high-precision weighing with the option of mixing up to eight different products.
The weigher works on the principle of the product being distributed in the weighing cells and the best discharge solution, which is achieved through the calculation of an algorithm, being identified. The algorithm identifies the best combination possible in terms of speed and precision.
To achieve high speed, the machine features a tier of memory buckets that accept product from any undischarged weighing buckets, holding the weight in memory for the controls to make up the next target weight. In this way, the weighing combinations available are virtually doubled, giving higher speed and accuracy.
To handle lightweight products, particularly snacks, that tend to string out as they drop and lose the separation necessary for the bagger to make a secure seal, the C3 weigher also incorporates twin butterfly flaps that momentary arrest the falling product stream. This provides a greater gap between each drop, giving extra time in the cycle for bag sealing.
The C3 weigher is available with eight to 24 heads and can be employed in split mode to feed two bagging machines and to mix up to eight different products or ingredients. Construction is in stainless steel, with electrics sealed to IP66 for hosedown.
The Series C3 can be customised mechanically to suit the characteristics of the product to be weighed.