Since 1986, we've dedicated ourselves to bringing the best in packaging equipment to our customers throughout Australasia. Emrich has actively researched and reviewed packaging machinery manufacturers worldwide, and selected only those that deliver outstanding reliability, premium performance and exceptional value for money. Over the years, we've forged strong relationships with each of our chosen suppliers. This translates into great working relationships – which in turn deliver benefits to our customers seen in fast response times and customised solutions we are able to achieve on their behalf.
Our brands include:

(Flow Wrap and Form Fill Seal packaging)
A leader in form fill seal machines and flow wrap, 
PFM Packaging in Italy designs, manufactures and markets flow wrap and form fill seal machines and automatic systems. Their machines are used in extensively in the food, pharmaceutical and cosmetic industries. 
PFM's technical department, made up of highly skilled engineers and designers, develops applications which are acknowledged as being amongst the best in the world in terms of their level of innovation, customisation and performance. 
 www.pfm.it

(Vertical and horizontal cartoners, sleeving and tray forming)
ADCO Manufacturing, based in the US, is a recognised leader in the design and manufacture of packaging machinery. This includes hand and auto load cartoners, top load carton formers and closers, wrap-around sleevers, corrugated box formers, case packers, vertical and horizontal cartoners, sleeving and tray forming, and custom machinery.

(Filling machines)
UK based Adelphi Manufacturing Co. Ltd (trading as Adelphi Manufacturing) was formed in 1947. Adelphi Manufacturing specialises in supplying filling packaging machinery for handling liquids and creams, from alcohol through aqueous liquids to creams, pastes and solids in suspensions.
www.adelphi.uk.com/manufacturing/manufacturing.asp

(Stickpack machines)
Aranow is a packaging company specialised in the design, manufacture and sale of single-serving packaging product ranges on a global level. A working philosophy based on commitment and constant innovation is what makes Aranow different. Offering excellent quality, high performance, innovative, versatile, economical and environmentally friendly products, Aranow's equipment is highly renowned in the sector. Based in Spain, Aranow are world leaders in the manufacture of multi-lane stickpack packages.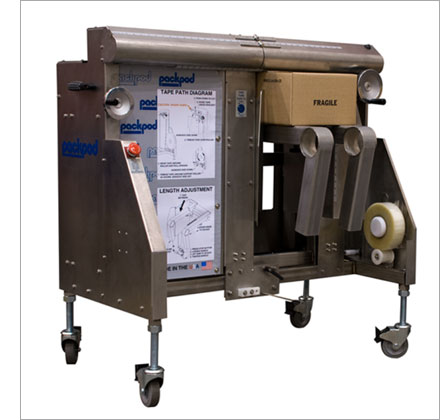 (Case Packaging)
The revolutionary Packpod is the world's smallest case erector/case sealer. Cases are formed, packed, sealed and palletised all in one place. The Packpod is ideal for contract fulfillment houses and smaller production houses. Additionally, high-speed dedication packers gain much needed flexibility in satisfying special customer packs with the highly portable packpod.

(Vertical Bagger)
Based in Italy, Pentavac are renowned for attention to detail. 
 They offer a range of small and large packaging machines that are well finished, and feature innovative ideas in mechanics and electronics that offer significant advantages to customers. Pentavac incorporate energy saving and the use of recyclable materials in the manufacture of their packaging machines.
Their designs are attractive and ergonomic, and Pentavac invest extensively in research and development to continuously innovate their product line.

(Check Weighers)
Nemesis is based in Modena, Italy where all of their products are manufactured. 
The company has developed strategically in response to the demands of the market, and through careful planning has developed solutions for a variety of check weighing applications. 
 The HSC350 range from Nemesis includes check weighers that run at speeds of up to 480 pieces per minute and can be used across a number of industries including food, pharmaceutical, chemical and manufacturing. Integration of metal detectors, automatic weigh price labelling and product sorting systems are all part of the HSC350 range.

(Tray Sealers)
Italy's TECNOVAC was established in 1988 for the production of machines for the packaging of food and non food products. Today TECNOVAC has a modern range of machines, which have been designed and produced with maximum commodity and practicality in mind. All of TECNOVAC's machines are manufactured in stainless steel and are easy to clean. Innovation is a key focus and TECNOVAC invests significantly in research.

(Tube Fillers)
For over 30 years, TGM has designed and built a highly regarded range of automatic tube filling machines. TGM's tube filling machines can be used for filling and packaging a variety of products such as silicon, mascara and cream to name a few. TGM's strength is its production flexibility that allows the company to meet a variety of customer needs.

(Cup fillers)
The TREPKO group based in Denmark is a long-established, market leading producer of filling and packaging machinery for the food industry. Its range centres around their preformed cup fillers and extends to shelf ready case packing, tray packing and palletising. 
 With over 60 years of manufacturing experience, the TREPKO Group is firmly placed at the forefront of the packaging industry and today TREPKO has loyal customers in more than 90 countries across the world.
TREPKO machines are characterised by their high efficiency, excellent reliability levels, easy maintenance and long life. All TREPKO machines are made of the highest quality materials and meet the most stringent hygiene requirements and safety levels.

(Depositors)
Steck Depositors was established in 2001 with simple objectives; to develop new and innovative food depositors and become the technical leader in the field. It's founder, Mike Wilkinson has more than 25 years experience in the food Industry both in design and senior management roles at home and overseas. Steck Depositors are a focused business and as the name suggests, we are 100% committed to developing new and innovative solutions to solve a wide range of depositing equipment applications..

http://www.steckdepositors.com/Home.htm

(packaging automation systems)
The OKI Group is a leading global manufacturer of integrated Packaging Automation Systems, specializing in "Single Source Solutions" for a wide array of "End of Line" system applications. Our portfolio of technology, process optimization, and services help our customers achieve their productivity and business performance goals.