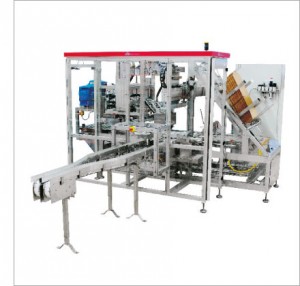 TREPKO wrap-around packers are fully automatic machines which group and pack products in cases or trays formed from a flat sheet of corrugated board. The flat sheet, referred to as a 'blank', is folded and glued around the pre-arranged products to form the case/tray.The machine consists of flexible basic modules designed to meet the current customer requirements regarding pack types and sizes and also allows for future additions if and when they are required.
The machine design incorporates unique and interchangeable 'blank' feeders to allow different case/tray sizes to run on the same machine. This changeover procedure requires little time with all the different sized change parts easily and quickly accessible.
All packing takes place on one level with a maximum output speed of 20 cases per minute. The machine can also be loaded with several 'blank' stacks for longer runs without the need for loading.
[salesforce form="1″]